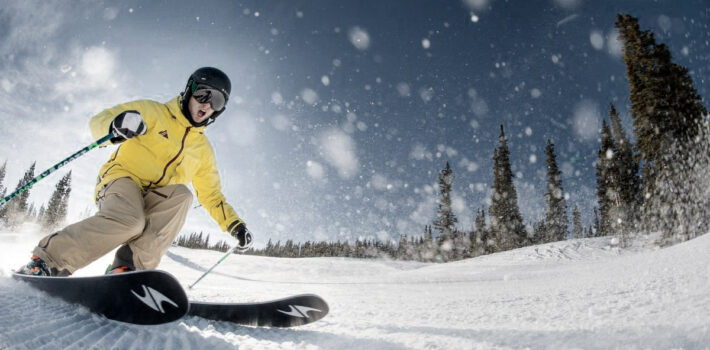 Skiing down the slopes of one mountain is great, but why not try two in this 2022-23 ski season? On any given day, skiers and snowboarders race down the slopes of both Vail and Aspen ski resorts. The two mountains are practically next to each other, and sometimes people don't know which one is better.
The two resorts share many similarities. They both have excellent snowfall records, an abundance of intermediate trails, and offer great amenities for all types of skiers and snowboarders. Bus service, shuttle service, limousines, and private car service are available from Denver to Vail and Aspen.
Differences between Aspen and Vail Ski Resort
However, there are also some differences between Aspen and Vail that make each one unique.
We have looked at both resorts and curated this blog on Aspen vs. Vail Ski Resort.
Skiing
Both resorts offer excellent skiing opportunities owing to their high elevation. Aspen offers more challenging terrain than Vail, but Vail has more runs for beginners and intermediates.
Further, Aspen is ideal if you want a relatively quiet place, while Vail is more crowded and not perfect if looking for seclusion.
Terrain
Both have terrain parks for skiers who want to try tricks on their boards or skis at the end of a run.
However, Aspen has much more steeps, chutes, trees, and glades than Vail. It also has more extreme terrain like ski jumping. Further, its landscape is designed to challenge expert skiers who want to push their limits in powdery snow conditions or deep powder falls.
On the other hand, Vail has much more intermediate terrain. It is easier to find groomed trails without bumps or moguls at Vail than at Aspen. This makes Vail a good choice for families with young children who are just learning to ski or snowboard or adults who want a relaxing day on the slopes.
Elevation
Both of these resorts have an elevation of over 10,000 feet and are known for having some of the best skiing conditions in America. And if you're planning on visiting one of these resorts, there are many factors to consider to help you decide which one works best for your vacation plans.
More specifically, Vail is located at 11,570 feet above sea level, with a 3450 feet vertical drop, while Aspen is located at 12,510 feet above sea level with a 4406 vertical drop.
Food, dining, and hotels
Aspen is known for its food scene, with some of the best restaurants in the country. Similarly, Vail has plenty of great dining options as well. However, there are also plenty of affordable places to eat at both resorts, so you don't have to break the bank just because you're visiting a high-end resort. Book any local mountain car service to enjoy local best restourants.
Hotels at both resorts range from luxury hotels to more budget-friendly options. If you're looking for something more affordable than luxury hotels but don't want to stay further away from the slopes, consider staying at one of these mid-range hotels near Aspen or Vail ski resorts.
Generally, both spots have excellent restaurants where you can get food ranging from simple burgers to fine dining options like steak dinners.
Aspen vs. Vail ski resort: The verdict?
Ultimately, you'll need to figure out what works for you. There's no magic formula for finding the perfect ski resort, but you may find that Aspen or Vail is better suited to you and your preferences. What's more, no matter which ski resort you choose, there are still some typical attractions between these two spots.
Between the incredible views of nature and the top-notch skiing, you can find something to enjoy at either one of these resorts.
Related Mountain Car Transportation: