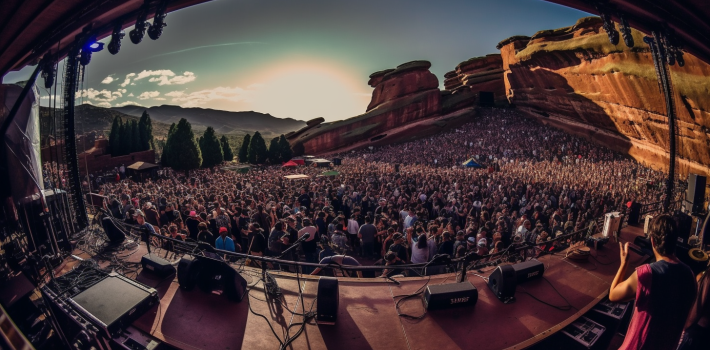 Hey there, concert-goers! Are you ready for a month full of fantastic live music at the iconic Red Rocks Amphitheatre? April 2023 has an incredible lineup of events that cater to a wide range of musical tastes. So, gather your friends and family, and let's take a look at the incredible shows coming to Red Rocks this April!
April 1st & 2nd
DOM DOLLA
Kick off the month with a double dose of excitement as DOM DOLLA takes over Red Rocks on April 1st and 2nd. Get ready to dance the night away to some groovy house tunes that'll make your heart race.
April 7th
TCHAMI
On April 7th, join TCHAMI for a night of electrifying future house beats. This high-energy performance will make you move to the rhythm and get lost in the music.
April 8th
BOOGIE T
BOOGIE T is set to bring the bass on April 8th, delivering a perfect show for all the electronic music lovers out there. Be prepared for an unforgettable night of head-banging fun!
April 12th
YEAT
YEAT, a rising star in the rap game, takes the stage on April 12th. Get ready to witness a truly energetic performance full of catchy beats and impressive rhymes that'll have you humming along.
April 13th & 14th
SUBTRONICS
Dubstep fans, unite! SUBTRONICS will be rocking Red Rocks for two nights on April 13th and 14th. Expect powerful basslines and stunning visuals to make for a truly mesmerizing experience.
April 15th
BOB MOSES & BEN BOHMER
Looking for a chill evening of electronic tunes? Don't miss BOB MOSES & BEN BOHMER on April 15th as they create a mesmerizing atmosphere with their melodic beats and soothing soundscapes.
April 18th
BORIS BREJCHA
BORIS BREJCHA brings his unique high-tech minimal sound to Red Rocks on April 18th. This innovative performance will leave you in awe of his intricate rhythms and captivating melodies.
April 19th & 20th
THE MARLEY BROTHERS
Celebrate the spirit of reggae with THE MARLEY BROTHERS on April 19th and 20th. Their uplifting performances will have you swaying to the beat and feeling the good vibes all night long.
April 21st
SOFI TUKKER
SOFI TUKKER brings their catchy electro-pop tunes to Red Rocks on April 21st. Don't miss this live show that's sure to have you dancing and singing along from start to finish.
April 22nd
WIZ KHALIFA & JOEY BADASS
Hip-hop enthusiasts, mark your calendars for April 22nd! WIZ KHALIFA & JOEY BADASS are joining forces for an unforgettable night of rap excellence that you won't want to miss.
April 23rd
SVDDEN DEATH
Bass music lovers, brace yourselves for SVDDEN DEATH on April 23rd. This high-intensity performance will blow your mind with its heavy basslines and thrilling visuals.
April 25th
GOTH BABE
Indie fans, rejoice! GOTH BABE brings his dreamy, surf-inspired sounds to Red Rocks on April 25th. Prepare for a night of enchanting melodies and feel-good vibes.
April 26th
PEEKABOO
PEEKABOO takes the stage on April 26th, showcasing his unique blend of bass-heavy beats and captivating tunes. Gear up for a night of cutting-edge electronic music that's sure to keep you on your feet.
April 27th
GORGON CITY-ENTER THE REALM
Experience the magic of GORGON CITY-ENTER THE REALM on April 27th as they combine live instrumentation with their signature house music sound. This immersive show is a must-see for music lovers of all kinds.
April 28th
SUBLIME WITH ROME & BONE THUGS N HARMONY
Relive the best of the '90s with SUBLIME WITH ROME & BONE THUGS N HARMONY on April 28th. This nostalgia-packed concert features ska-punk and hip-hop hits that'll have you grooving all night long.
April 30th
TREVOR HALL
To wrap up the month, join TREVOR HALL on April 30th for an evening of soulful and inspiring music. This singer-songwriter's heartfelt performance is the perfect way to end a month of incredible live music at Red Rocks.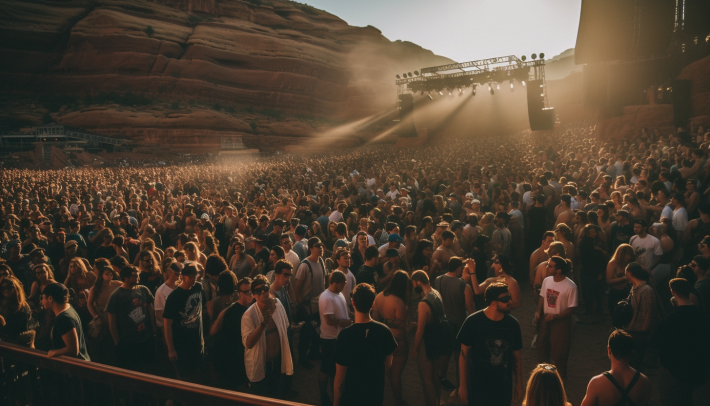 There you have it, folks! A month packed with amazing artists and unforgettable performances at the one and only Red Rocks Amphitheatre. Don't miss your chance to be part of these incredible events – grab your tickets now, and let the good times roll this April 2023!
Related Post: May 2023 Events at Red Rocks Amphitheater
FAQ's
Here we have some of the most frequently asked questions:
How can I purchase tickets for the Red Rocks April 2023 events?
Tickets for Red Rocks events can typically be purchased through their official website or authorized ticketing partners. Be sure to buy tickets only from reliable sources to avoid scams.
Are there any age restrictions for attending Red Rocks concerts?
Age restrictions may vary depending on the specific event. It's essential to check the event details or contact the venue for more information on age requirements.
Is parking available at the Red Rocks Amphitheatre?
Yes, there are multiple parking lots available at Red Rocks, and parking is usually included in the price of your ticket. However, lots can fill up quickly, so it's recommended to arrive early.
Can I bring my own food and drinks to Red Rocks concerts?
Generally, personal food and non-alcoholic beverages are allowed at Red Rocks events, provided they are in factory-sealed plastic containers. Glass containers and alcoholic drinks are prohibited. Always check the venue's guidelines before attending.
Are there any seating options available for people with disabilities at Red Rocks Amphitheatre?
Yes, Red Rocks Amphitheatre provides accessible seating options and services for guests with disabilities. Contact the venue directly for more information on available accommodations and to make arrangements.
What happens if a concert at Red Rocks is canceled or postponed due to weather or other circumstances?
In case of event cancellation or postponement, the venue or event organizers will provide information on refunds or rescheduling. Keep an eye on the Red Rocks Amphitheatre's official website or social media channels for updates.
Can I bring a camera to a Red Rocks concert?
Camera policies may vary depending on the event and the artist's preferences. Small, non-professional cameras are typically allowed, but professional cameras, video cameras, and recording devices might be prohibited. Check the specific event guidelines for more details.
Are there any nearby accommodations for visitors attending Red Rocks concerts from out of town?
Yes, there are numerous hotels and other lodging options in the surrounding areas. Some popular nearby towns include Morrison, Golden, and Lakewood. It's a good idea to book accommodations in advance, especially during peak concert season.